As Yankee Stadium comes to a close, the

YES

ESPN Network

has been highlighting the greatest moments in The Stadium's history. For me, and many baseball purists, Yankee Stadium was closed over 30 years ago when the iconic features and dimensions were destroyed and the entire playing surface was rotated slightly.

But, that doesn't take away how historic Yankee Stadium has been in baseball and how depressing it will be to see it go.


During the kinescope era, the 500 HR plateau was broken 9 times. While the last of the 9 times (and probably the two before it) more than likely came during the videotape era, it is worth noting. They are as follows:
Ted Williams - 06/17/1960
Willie Mays - 09/13/1965
Mickey Mantle - 05/14/1967
Eddie Mathews - 07/14/1967
Hank Aaron - 07/04/1968
Ernie Banks - 05/12/1970
Harmen Killebrew - 08/10/1971
Frank Robinson - 09/13/1971
Willie McCovey - 06/30/1978
Known partial broadcasts exist of a handful of these, one of which I will touch on today.
Mickey Mantle muscled his 500th career Homerun into the lower bowl of the right field corner off of Sam Miller in the 7th inning vs the Baltimore Orioles.

This game was originally broadcasted on WPIX CH 11. The clip of the homerun has been reshown on HBO's special 'Mantle', during ESPN's retrospective of Yankee Stadium and I believe part of it was involved in the Yankeeography on Mickey Mantle.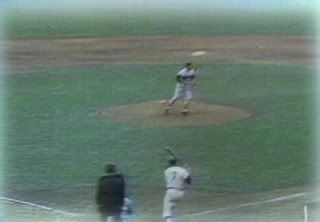 The full broadcast is not known to be in existence. That isn't to say that WPIX doesn't have the recording. It isn't to say that Mickey Mantle, the most idolized star during the kinescope era, who also played in the biggest, richest city on the planet did not have a starry-eyed fan out there recording the feat.
In fact, Mantle's HR appears to not be on kinescope but rather video tape. The footage we see is not from a collector's home stash but a video master that at one time was recorded by WPIX. Here is a video retrospective on Yankees on WPIX which holds the video clip:
Screengrabs from 'Remembering the House that Ruth Built' commercial on ESPN.